I'm so glad you made it here!

This is a brief overview of the Top 5 Tips for doing well with Content Marketing for your hemp business.

Our goal is to assist you in connecting your ideal customer with your hemp product or service, so we can experience a paradigm shift on the planet by spreading your quality hemp products around the world.

The more hemp that get's into our homes and businesses the healthier and wealthier we believe we will all be.

Why is it Important to do Content Marketing?

Since many of the mainstream Social Media outlets have shown lack of support for Industrial Hemp it's vital to apply as many free and low cost marketing strategies for your brand as possible.

As you grow, there are some tools you can invest in that will accelerate your success which we will also share below…

So here's an overview of the different sections in this post for you to preview what you're about to dive into.
Do Your Research
Know Your Audience
Choose Your Channels
Choose your Content Creation Tools
Plan, Implement, Distribute, Analyze & Optimize Your Content
So let's get your hemp brand out there and bring in your ideal customers to make a big difference and lots of dollars!

There are a few things important to research whenever you're going to do a Content Marketing Campaign or formulate a strategy for your hemp website or business.


The first is Keyword Research. There are some phenomenal tools that can help you figure out which terms are being searched for and which are the most or least competitive.
​
Second is Target Market Research. Who is it that you are creating content for and what stage in the buying process are they at?​ TOFU, MOFU or BOFU (Top of Funnel, Middle of Funnel, Bottom of Funnel).
​
Where do your Ideal Customers hang out online and off?
GET YOUR CONTENT MARKETING GAME PLAN IN PLACE with this FREE EBOOK DOWNLOAD TODAY!
Two Types of Marketing: Brand Marketing & Direct Marketing
Since Content Marketing fits within your overall Marketing Strategy, it's wise to think about which method you will be focused on, if not both.

The essential difference between the two is MEASURING.

Brand Marketing: Is a longterm, broad spectrum approach that cannot be measured.

Direct Marketing: is a laser focused, tracked, measured and optimized approach.

​Both are good but they are very different. Think of Nike, if they started a hotel you can pretty much imagine what that would look and feel like…

On the contrary, if Hyatt or Marriott started a shoe company, it's pretty hard to guess what that might look and feel like.

The difference is Nike is very BRAND focused, and Hyatt is very Direct Marketing focused.

Raising Brand Awareness is a deeper long-term approach to succeeding with your marketing efforts. Building your brand and brand awareness is very hard to measure but in the long run is worth a lot more…

It's worth more in the sense that people will buy from you because of what you stand for, and what YOU & THEY believe in.

Direct Marketing is great, and it works and it's effective and important.

However, the main thing to focus on if you are wanting to be in business to build a loyal following of quality customers, then it's all about Brand Marketing.
Getting into the Research
Asking the important questions about the people you serve.
What do my customers believe in?
What do my customers care about?
What do my customers stand for?
What do my customers oppose are what are they against?
Questions to ask yourself when focusing on Direct Marketing
What type of clothing does my customer wear?
What type of Car do the drive?
Where do they live? And how big is their house?
Where does my customer shop online and offline?
What types of books or online content does my customer consume?
And where do they consume this content?

The better you know your customer base and prospective customers the easier it will be to offer them solutions to their problems in the form of your hemp products and services.
Some good questions to ask yourself when learning about your prospects and customers are:​
Where do they hang out? Both online and offline?
What do they like to read?
What do they like to watch on TV/online?
What's their age range?
Are they mainly male or female?
Older or younger?
What is their financial status or income level?
What other products do they like to purchase?
All of these questions will help form your Customer Avatar or ideal customer.
You can do your own research through surveys, but there are some great resources online for existing data for your particular product category or industry.
​Here's a quick list that should be super helpful when it comes to Search Engine Optimization:
If you're going to win with getting found online, start with a solid foundation or keyword research.
So you can create content that your customers are searching for, and solve their problems.
There are many things that affect your ability to get found online… it's all about being at the right place at the right time, and being in front of your customers enough times they will eventually check you out.
As you well know there are so many Social Media platforms out there that you just have to pick one, two or three and get started.

I'm sure you already have a few social accounts, but if you don't it's high time.

​Of course it's wise to determine your Customer Avatar (ideal customer) first, to determine which platform will be best, but ultimately picking one and sticking with it is what it's all about.

If your customer is young it's likely they are on Instagram, Snapchat and TikTok.

If they are older adults and are in the professional arena they are more likely to be hanging out on LinkedIn or Pinterest.

​Also, the type of content you plan on making will be different for each of these platforms, so be mindful of not trying to be on all of them.

If you offer professional services then being on LinkedIn is essential as this is where many professionals hang out.

If you are offering products that have a lot of images, a great place to be posting is Pinterest.

The people the hang out on Pinterest are actively looking for products to purchase, and it's a great platform for advertising as well.

As a marketing agency, we are happy to implement paid advertising campaigns, but working with FREE CONTENT Marketing is a great first step.

Also, there are many platforms that do not support hemp products as you are surely aware of. But you shouldn't have that problem with Pinterest, if you plan to move into paid ads.

4. Choose Your Channels MARKETING TOOLS
When it comes to Content Marketing, there are a few tools that can help your hemp brand stand out from the crowd and attract your perfect customers.

The most important aspects of Content Marketing are your Copywriting, Design, Distribution, Engagement, and Analytics.

There are so many great products available, and we platform agnostic. It's all about what your preferences and and what you're wanting to accomplish.

With that said, here are some features your going to want in the tools for each key aspect of your content marketing.
Copywriting Tools: You can learn copywriting yourself from online courses, get some software with templates you can follow, or invest in entry level to very high level copywriters that charge in upwards of $40k for one campaign or piece of content.
Design Tools: Make sure your design tools incorporate custom branding features. Like can you easily get to your color pallet, or customize the fonts to your style?
There are Video Design Tools and Graphic Design Tools.
Some great examples of Graphic Design platforms are Canva.com or YouZign.com, 
For video editing software the more technical ones like Adobe's Premier Pro or Apple's Final Cut Pro video editing software can do pretty much anything you want as far as that goes.
There is one other platform that is wonderful for small hemp companies that need an all-in-one graphic design platform.
There's also another great video editor called DaVinci Resolve – and it's FREE!
Distribution & Engagement Tools: 
There are some great tools out there to help you manage your content distribution. Some that connect to tons of platforms, and some that connect to just a few.
You may end up using more than one tool to get the job done for Distribution and Engagement, but here are a few platforms that could work great for you!
Analytics Tools:
The foundational tool for analytics is obviously Google Analytics which is a fantastic start, if you haven't already installed it on your site.
You can do a deep dive into analytics and start using your data to inform your campaigns and offers, which can get super fun!
Here's some tools for deep diving into Analytics:
5. Plan Implement & Distribute Your Content
Benjamin Franklin once said, "if you fail to plan, then plan to fail." 
Yes, maybe you can get away with just randomly posting on your social accounts and creating content off the cuff, but having a strategy that's laid out and a specific goal your moving towards makes the process much more rewarding and easier to know if you are accomplishing your KPI's (Key Performance Indicators).
You can take the free approach of using a spreadsheet or calendar to map out your content, or you can use one of the many great planning/scheduling tools.
Here are some of the great tools out there to help you schedule out your posts into the future and plan out your campaigns:
In closing, our intention is that this post will help you first realize how crucial it is to be creating content and getting it out to the people. 
You have solutions to people's problems, in the form of hemp products and that is vital.
We are so thankful to be able to support you on your hemp journey of success and look forward to hearing how this post may have helped you in some way.
Feel free to leave any comments down below or let us know if you have any questions about content marketing, or if there are any other tools out there that have helped you hemp company with Content Marketing!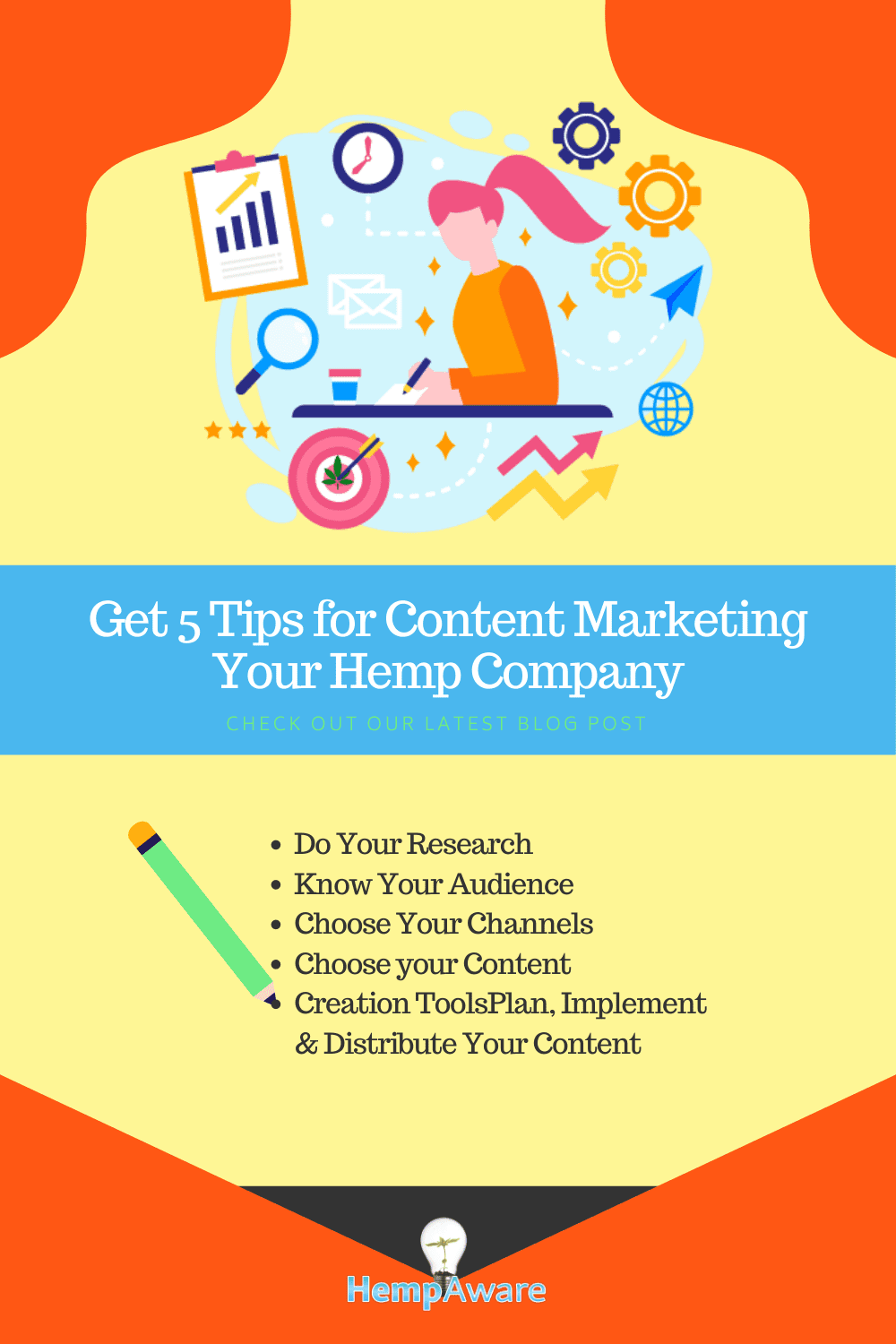 Feel free to share this infographic, which will help other hemp entrepreneurs and those offering hemp products!