The Language of Hemp Enthusiasts & Hemptrepreneurs
A COLLABORATIVE project to assist with the integration of industrial hemp into the people's lives through WORD, SOUND & POWER!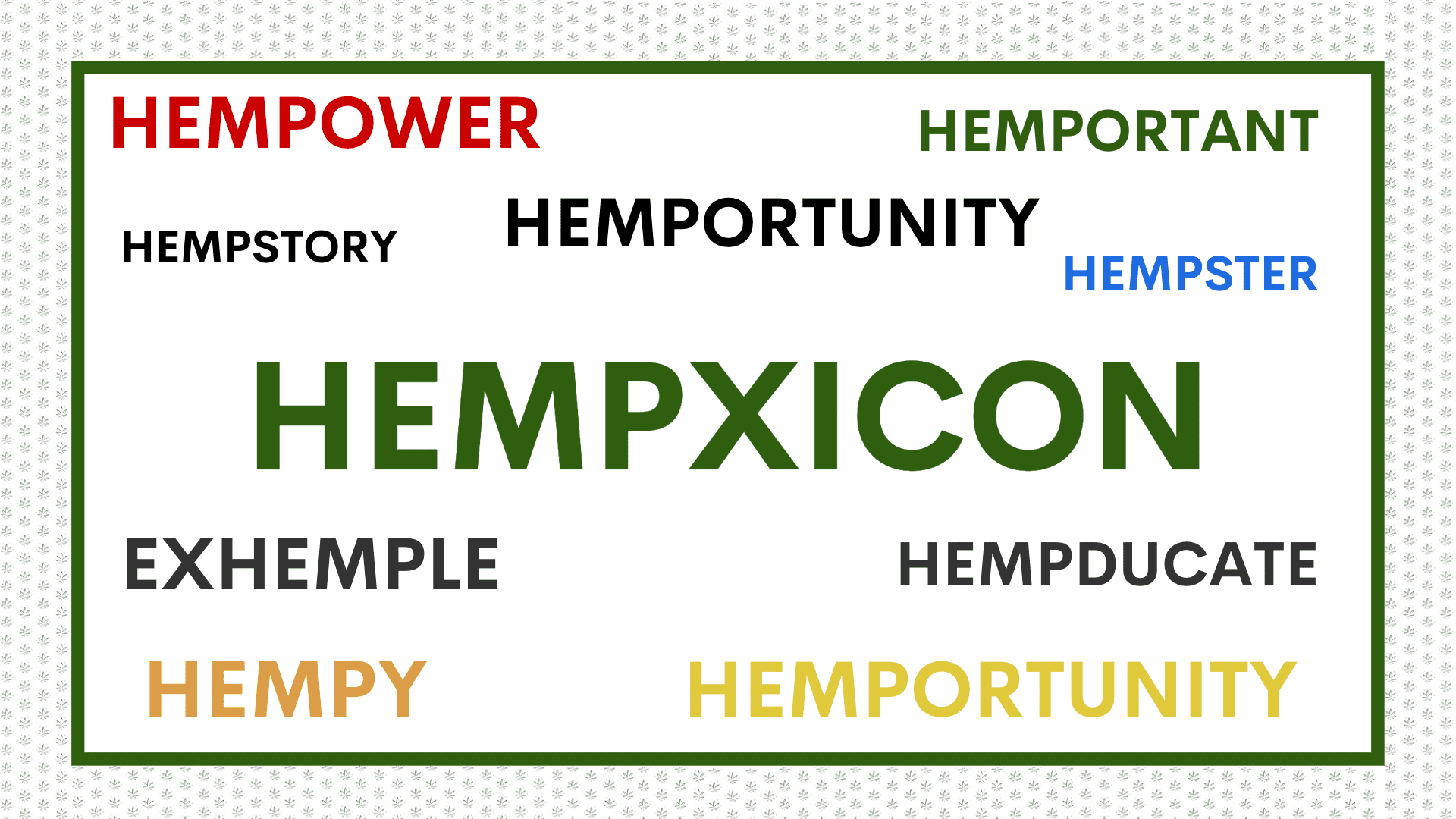 What is a Lexicon?
Meaning: the vocabulary of a particular language, field, social class, person, etc. 
What is the definition of Hempxicon?
The vocabulary of hempen people who speak hempanese for the greater good of all – because it's hemportant!
We've created a fun a playful way to hempducate as many people on the planet as possible about the BENEFIT and VALUE that Cannabis Hemp has to offer humanity and All Life Food, Shelter, Clothing, Medicine and everything in between!
Participate in creating a body of language centered on the word HEMP.
Receive updates each time a new hemp word is created and help contribute to this open source project.
Just Enter Your Email Below!
hempowering, hempowered,
​hempowerment
​
to empower someone of the benefits, value and experience of cannabis hemp.
a description (from empirical) of ALL THE EVIDENCE that shows how critical cannabis hemp is to our healing, well-being and to the prosperity of our nation and planet!
an opportunity relating to the hemp industry, particularly for hemp entrepreneurs, or someone wanting to get into the hemp industry or movement.
​a descriptive word for a well made hemp product or someone who represents the hemp plant and what it is capable of, ie. "She is an exhemplary hemptrepreneur."
​to put emphasis on the fact that something is made from the hemp plant.
​the process of learning about cannabis hemp
an ​individual who deals with multiple hemp endeavours, such as selling hemp seeds, offering hemp diapers, working on the front line of cannabis hemp legalization, etc…

​some also spell it, hempreneur
to exhibit a use for the hemp plant.
an infographic pertaining to the benefits, value, uses, qualities, or market data of hemp.
to have empathy for someone having difficulty with integrating hemp or overstanding hemp.

also: hempathy
a beloved women passionate about hemp, often joined with her hemperor
hempishment

​being nourished from the hemp plant.
a hemp dictionary of made up hemp words. hint: this page is some what of a hemptionary
​a syndrome that many people are waking up from about hemp being the 'devils weed' or something that creates madness as in 'reefer madness'.

also, hempnotized
​Something that a person or company produces made from the hemp plant. 
For example, if you have a dream to design and produce a hemp product, and you manifest that hemp product – it's a hempifestation.
a system of training a new generation of hemptrepreneurs, hemptographers, hemp artists, etc. in the hemp trades or hemp professions with shoulder to shoulder training and hands on experience in the world of hemp!
also, hempprentice
the area of someone who is hempaware and uses hemp in their world.
hempducate, hempducation, hempducating

​to actively share the benefits, history, uses and value of the cannabis hemp plant with another person or many people.
a state of being where one is experiencing a lasting happiness through the actualization of utilizing hemp products for healthy, clean, sustainable products for our food, homes, clothing & thousands of things!
​an abundant, clean, healthy community of conscious and hempaware peoples.
​an example of something made from hemp.
​a creative and innovative inventor of hemp products, technologies and goods.
an investment in something hemp
someone who invests in hemp
happy about hemp or about something related to hemp.
​a creative and innovative inventor of hemp products, technologies and goods.
to integrate hemp into a project or task. For example you're designing a new pair of shoes, and you want to use a sustainable earth-friendly material, so you think of hemp fabric, or hemp twine as one of the materials for your design.
A exploration of anything hemp related. aslo, hemporational, hemploration