Whether you smoke cannabis or not, most of us like the smell of flowers.
Being that the cannabis plant produces resinous and terpene rich flowers, it's a perfect source for aromatic amazingness!
​In this post I want to introduce you to a company that is on the cutting edge of cannabis essence products: Kushed Candles
​If you enjoy candles and love cannabis then you will be in heaven with these high end flavorful candle creations!

There are two main reason why I've chosen to shed light on this Southern California based conscious company.
A candle is a symbol of awareness.
They utilize cannabis essential oil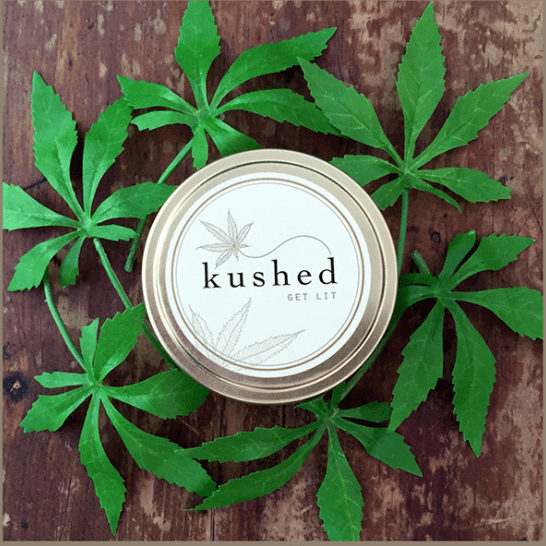 It's obvious that the foundation of the HempAware Brand is to spread awareness about hemp. What better a product than a candle with hemp in it to manifest this vision and dream.
Life can get hectic, chaotic and stressful at times. So, Kushed Candles was to help bring peace and balance to your world through the inspiring and mood-changing sense of smell.
Their signature line of aromatherapy candles was developed to encourage and support you to unwind, experience calm or feel deep luxuriousness.
You've most likely experienced the scents of jasmine, citronella, or tea tree; these smells are derived from the plant's fragrance – these are the plants terpenes.

However, when it comes to the aroma of cannabis hemp essential oil it's likely not what you'd expect.

​It's aroma is uplifting, earthy, slightly sweet, and almost piney. It's been said to be one of the highest vibrational essential oils in the world, next to rose.

Who is Alison Joy? | Founder of Kushed Candles
Combined with the power and effectiveness of the candle, founder Alison Joy alchemically crafted some tantalizing blends of essential oils with cannabis essential oil to create the Kushed Candles brand.

Alison began her love affair with candles back in 2003. In her small condo, she shared with her seven year-old son, she would find relief from her demanding career in the film business. Aromatherapy candles were her haven.

They transformed her home into a healing, relaxing and soothing environment. But there was a slight problem. The candles that gave her such relief and comfort were very pricey.

As a single mother, in that little home with her son is where she gave birth to the idea of creating her own custom made candles.

​With her homemade candles, she was able to experience that piece of heaven, within her crazy world.
Follow Your Passion - Especially if it has to do with Cannabis Hemp ;-D
Her passion evolved and she set out to create a high-quality candle that was just as good as the high-end candle brands on the market.

She focused on creating an affordable, yet quality candle brand.

Alison experimented with a bunch of essential oils. She was fascinated by the powerful aromas and therapeutic values. She constantly experimented and alchemized scents in ways that blew her and her friends away.
​
Eventually, her research and development brought her to one of the more uncommon and unaccepted oils: cannabis essential oil.

Once she discovered this unique and therapeutic essence she knew she had found something different and powerful.

She realized that if she wanted to set herself apart and make her brand stand out from the rest she was going to use an essence and product that most people find to be taboo.

​However, because her candles have nothing to do with getting high or altering your senses in a psychedelic way, she knew that she could success with this.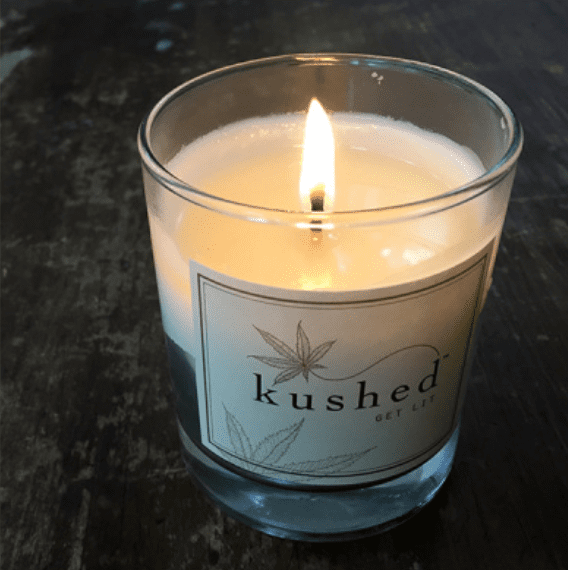 Her line of Cannabis blended candles has evolved into an amazing array of choices and is constantly growing.
Start experiencing the benefits of her Cannabis-based candles today and see what I mean!
Visit: www.KushedCandles.com
These candles are great as gifts, for yourself or loved ones!
​They are great for the bath, for the kitchen or even in your office – to maintain that calm focus!