This article breaks down the challenges, the "why," and how to do SEO for cannabis and hemp websites. So you can not only make a difference in the world, but a great living doing it.
When you're ready, get the 411 on the 420 below.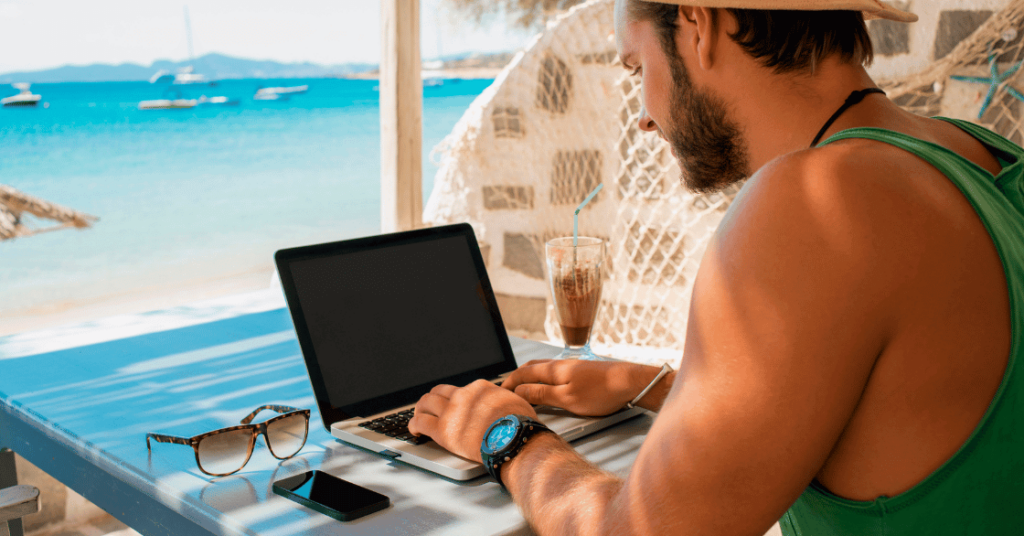 In recent years, the cannabis and hemp industries have experienced remarkable growth and transformation. 
The global legal cannabis market was valued at $22.1 billion in 2022.
That's a compound annual growth rate (CAGR) of 25.5% from 2023 to 2030.
With the increasing acceptance of cannabis and hemp products for both medicinal and recreational use, businesses in this sector are booming.
However, hemp entrepreneurs and cannabis companies find themselves in a competitive industry.
This is where SEO (search engine optimization) becomes crucial.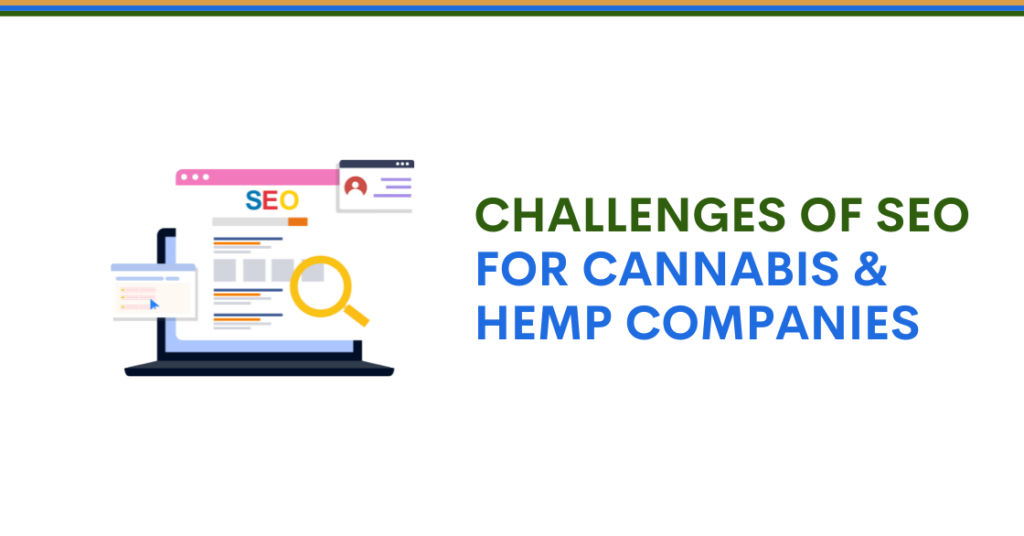 Challenges of SEO for Cannabis & Hemp Companies
The cannabis and hemp industries are unique in many ways. For this reason, it presents a challenge when it comes to digital marketing for hemp entrepreneurs.
Legal Restrictions and Regulations Around Hemp & Cannabis
Perhaps the most glaring challenge is the legal restrictions and regulations surrounding industrial hemp and cannabis companies.
One of the things that makes this so complex to navigate is that it's an ever-evolving legal landscape.
These regulations vary widely from one location to another.
Many large platforms like Meta and Google have strict policies against promoting cannabis-related products.
This has a trickle-down effect of limiting the companies in how they can market their products online.
Limited Paid Advertising Options for Cannabis Industry
These legal restrictions also limit the paid advertising opportunities for cannabis and hemp companies. So how can cannabis companies advertise?
One way to combat this is via organic search results using the best SEO practices. Which can be pretty straight forward once you get the hang of it.
With this solution you can start to drive traffic and reach your target audiences, consistently without spending thousands on traffic that can take a while to understand and know for sure they are the right people you are attracting.
The Stigma and Perception
Even though times are changing as more countries and states are legalizing cannabis, there is still a stigma and perception surrounding industrial hemp and cannabis companies.
This can negatively affect their online presence, so it's important to continually educate consumers.
Some businesses may encounter resistance or reluctance from potential customers. This makes it crucial to establish trust and credibility through SEO and content marketing.
Also, banks, payment processors and other financial institutions are still mostly skeptical about doing business with hemp and cannabis brands.
So knowing the right people in the industry is essential.
I guess that's why they say it's not what you know, but who you know that matters.
Competition in the Hemp & Cannabis Industry
The cannabis and hemp industries are becoming increasingly competitive. New companies are entering the market regularly. And with falling prices it's making it even harder to stick around.
So coming up with ways to save money, and differentiate your brand and products is essential.
The cool thing about SEO for cannabis and hemp companies is that you can make a huge difference in the lives of your prospects and customers, by producing high quality content, answering their most common questions, and getting them the answers they are looking for.
Cannabis businesses' must find an edge to make themselves stand out from the crowd.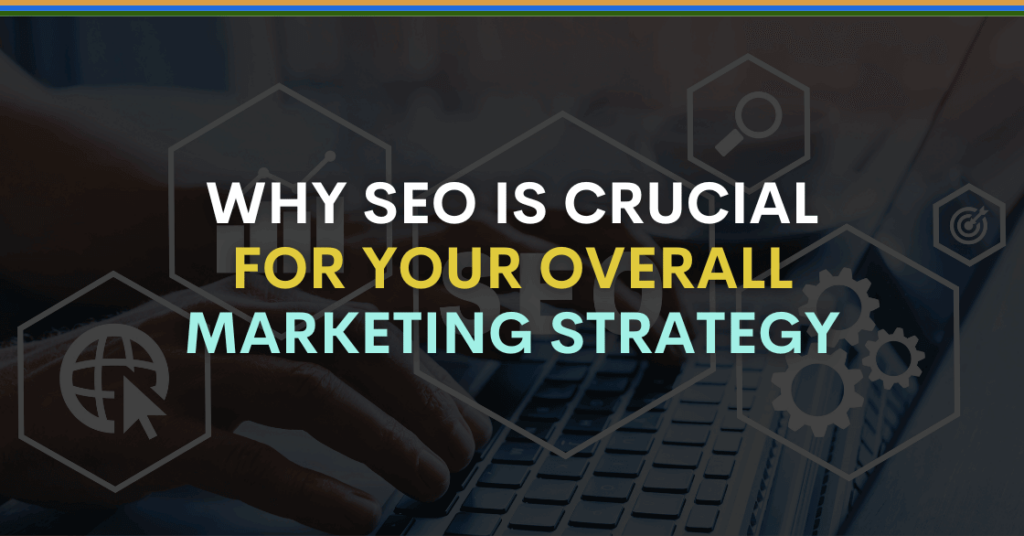 Why SEO Is Crucial for YOUR Overall Marketing Strategy
Despite the challenges mentioned above, cannabis companies believe in their brands and the hemp or cannabis products they offer, right?
The goal is to use SEO tactics and tools to their advantage in their overall marketing strategy.
And not have it be the only thing they do to get more traffic, leads and sales.
So knowing that SEO is a long-term approach and is best used in congunction with other forms of marketing is important.
Visibility in a Competitive Market
The cannabis industry isn't that much different than other industries in certain regards. Hemp and cannabis companies want to provide value and reach their ideal and potential customers, just like any other company.
One surefire way to achieve this is via as strategic SEO plan.
This will ensure your site ranks higher on search engines. 
When this happens, potential customers will head to your site and discover your products and services.
This, in turn, leads to sales and happy customers, and win-win-win relationships.
So it's crucial to do your competitive analysis, and competitive SEO research to figure out who your top competitors are, what keywords they are ranking for, and the difficulty of outranking them, before you start making any changes to your website.
A few tools to help you do Competitive SEO Research
When we perform the necessary research for our hemp and cannabis clients these are a few of the tools we use to develop our SEO strategy:
Simply go to Google.com and start typing the keyword you want to rank for and see what "suggested keywords" come up in the results. See image below for an example.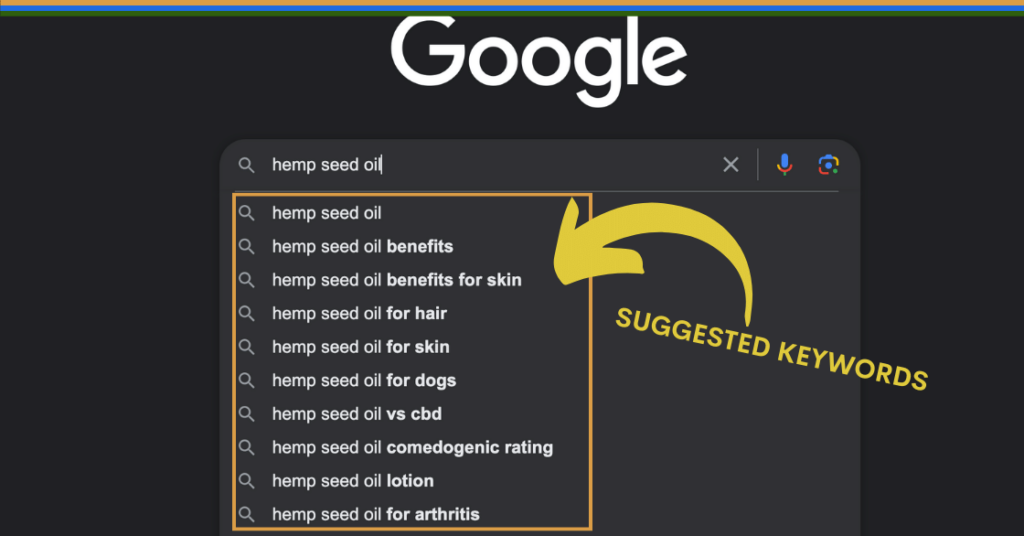 Or you can scroll down a little and see the other suggested questions people ask, which will be very helpful in creating valuable content you know people are searching for.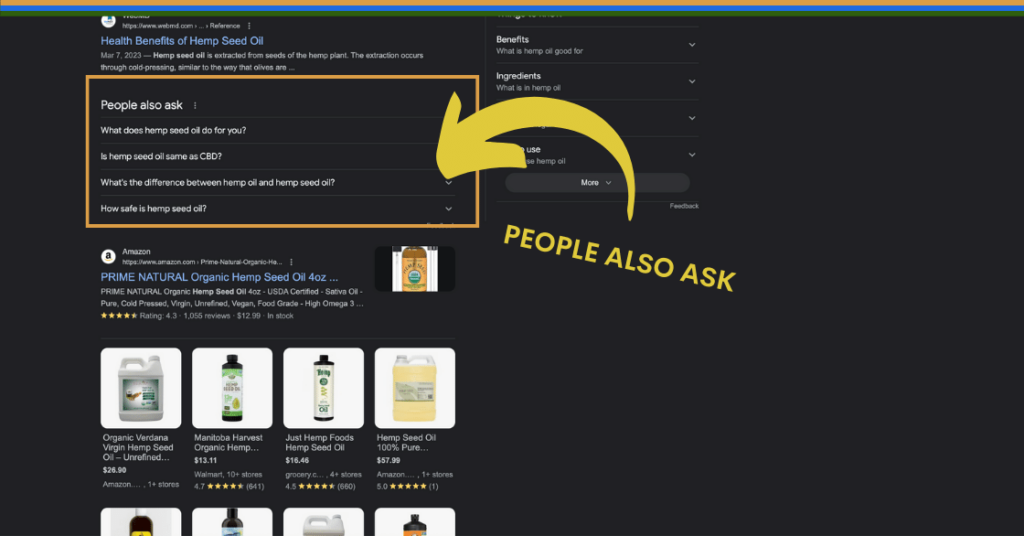 You will see the "People also ask" section, if you scroll down a bit on the Search Engine Results Page… and even all the way at the bottom of the page you will find additional keywords that people search for, that you can use in your content.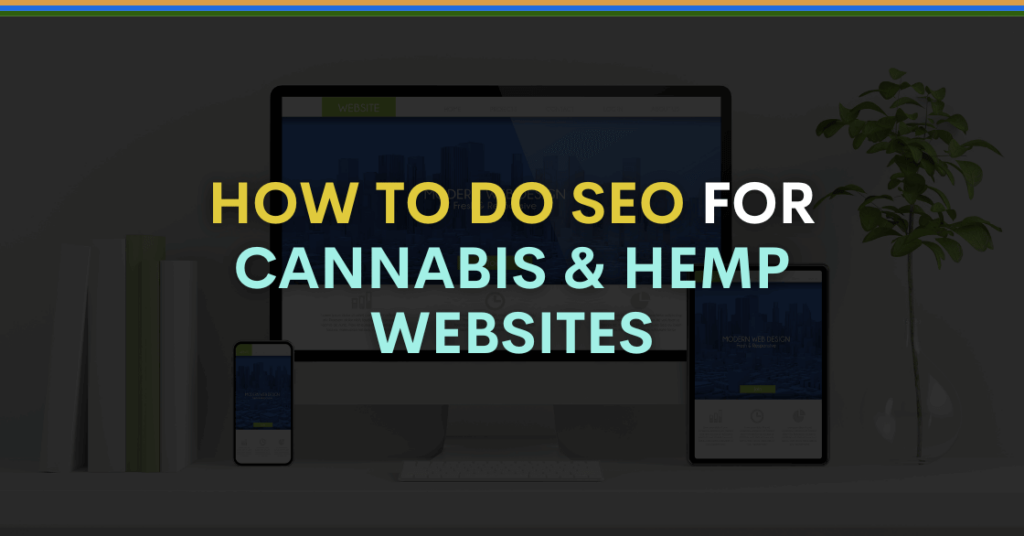 Building Trust and Credibility
Your cannabis site should be well-optimized and strive to create high-quality content – obviously.
You want to attract the right people and change the minds of naysayers.
Content creation for hemp companies is all about providing accurate and informative content, that helps people solve a problem, answer a question they might have, or give them a solution via a product that you offer.
Also, people like to be entertained so adding the power of story, or humor is always a powerful way to create higher quality content for your audience.
This way, you'll establish your brand as a trustworthy source of information and products in the industry.
Producing consistent high quality content is not only good for your audience to build trust, but it also tells Google and the other search engines, that you are serious and helps you start to gain topical authority.
Cost-Effective Cannabis Marketing
SEO is a cost-effective way to attract organic search results and thus more traffic to your hemp or cannabis website.
Rather than relying on significant advertising expenses, you can continue to drive traffic by targeting specific keywords like "cannabis, hemp, CBD, marijuana, etc."
But be careful about keyword stuffing, as this can ding you and actually harm your SERP rankings.
There are tools out there like RankMath and Yoast that can help you determine the "keyword density" that is best to use for a particular post or page you want to rank for.
Although SEO does require time and energy, and a small investment if you're hiring a company like HempAware to do your Cannabis or Hemp SEO, it can end up giving a much bigger return than paid ads.
The other benefit of doing organic SEO on your hemp website is that you can test things out, and see what the market interest is before spending tons of money on paid traffic methods.
Not only is Organic SEO for hemp and cannabis companies more cost-effective that other paid marketing methods, it adds additional value to your overall company and customer experience, as we mentioned before with gaining trust and authority in the hemp or cannabis industry.
Targeting the Right Audience
Customers will be searching for these keywords and phrases, so it makes sense to include them in your product descriptions, articles, and services.
Once you have a substantial following, the sky is the limit on what you can do with your cannabis company.
Exciting times are ahead in this industry, so do keep your nose to the grindstone as you provide value across the board.
One of the most important things to look for when it comes to creating content for specific audiences is what type of content you should be creating.
There are  different types of search intent content that you can create based on the type of content he searcher is looking for.
What are the Different Types of Search Intents?
Informational Intent: This type of search intent is for people that are at the beginning of their journey and just want to get some information or maybe a question answered on the topic of interest.

Commercial Investigative Intent:

 

This type of search intent is for people that may or may not be ready to make a purchase, but they want to know about pricing, shipping details, or the different products available in a particular topic of interest.

Navigational Intent:

 

This type of search intent is specific to a particular website's navigation. So for example someone my type in on Google: login page for gmail.com

Transactional Intent: This type of search intent is for someone ready to buy a particular product or service, so they might type in "where to buy CBD gummies", or "how to purchase hemp seo services."

Local

 

Intent:

 This type of search intent is for people looking for a business in their area. So the search term might be something like: "CBD shops near me."
Entertainment Intent: This type of search intent is pretty obvious but this type of content is for videos, podcasts, documentaries and things that people want to consume for entertainment purposes.
Branded Intent: This is any content that includes your company name, or the name of the company that the person is searching for. So it might be something like, SEO services from HempAware.
Adaptability and Long-Term Benefits
As mentioned, the cannabis industry is changing right before our eyes in terms of legal regulations and consumer behaviour.
Marketing for cannabis companies is all about seeing SEO as a long-term solution.
Much like the plants you work with, your online presence will grow over time, when given the proper attention.
This ensures that your business remains visible and competitive in the evolving landscape of cannabis and hemp.
How to Do SEO for Cannabis and Hemp Websites
Now that we've covered the challenges and "why," it's time to discuss how to do SEO for cannabis and hemp websites.
With this SEO framework, your cannabis company will outshine the competition.
Keyword Research and Selection
Keyword research is the foundation of any effective SEO strategy. 
To begin, you must identify the keywords and phrases your target audience is using to search for cannabis and hemp-related products and information.
Tools like Google Keyword Planner, SEMrush, or Ahrefs can help you discover relevant keywords.
The things you want to look out for when doing keyword research are the following:
Keyword Difficulty Score: 50 or below (on a scale of 0-100)
Monthly Traffic is showing anything of 10/month or more. This really depends on what the keyword it is for you and how valuable the leads or traffic will be. Obviously you can focus on keywords that have 20, 30, or even 10k monthly searches. But make sure to see how difficult that keyword is to rank for.
SEO Keyword Competition: Look and see who is currently ranking for that keyword, and what sort of content they have. Is a super popular site with millions of hits a month, then maybe try a long-tail keyword or something that doesn't have as much competition.
Produce High-Quality Content that Really Helps People
Aside from using the proper keywords, you will need to provide high-quality content for your audience. What exactly does that look like?
You can include things like:
Education articles
Podcasts
Product Videos
Reviews
Q&As with hemp entrepreneurs
Infographics & more!
If you're just starting, it may take you a while to learn what is valuable to your clients and customers, but that's why asking them good questions and asking them to fill out surveys can be helpful.
Keep refining what you do, and continue to use different approaches and mediums until one sticks, and then be consistent with that.
Research what others are doing in your industry and see how you can set yourself apart. What can you do better? 
Are there any holes or gaps in the market that others are missing that you could shine with?
On-Page SEO
On-page SEO involves optimizing individual web pages to improve their search engine rankings.
Key elements to consider include the following.
Title tags

Meta descriptions
Image optimization (including making sure you have an ALT tag for every image)
Internal linking (to other resources and pages on your site) helps your viewers and the search engines better understand the structure of your site.
Local SEO
If you have a physical dispensar, retail location or an office, optimizing for local SEO is essential.
Claim and optimize your Google My Business listing, including accurate business information.
Encourage reviews from satisfied customers but sending out emails asking people to give you a review on your Google Business listing, which is not only good for social proof, but also for SEO juice.
Watch Your Cannabis Company Grow
Now that you've learned the challenges, the "why," and how to do SEO for cannabis and hemp websites, what's next?
As you navigate this emerging industry, it is up to you to provide valuable content while staying compliant with industry regulations.
Follow this guide to position yourself as a leader and rank highly in search engine results. Stay committed and watch your cannabis company grow.
If you have a hemp product you truly believe in, check out HempAware's SEO services to discuss how to share it with the world.
seo for cannabis & hemp companies FAQ
Can cannabis or hemp brands advertise?
Most of the major advertising networks like Facebook, Google and Twitter are still not hemp and cannabis friendly.
But there are a few networks that do allow for CBD, and non cannabis based products.
If you're looking for help with your hemp or cannabis advertising feel free to book a call and we can set you up with a network that works best for you.
Is LinkedIn cannabis friendly?
Surprisingly, LinkedIn is one of the most cannabis friendly social platforms. They will allow you to post pictures of cannabis, and start conversations on the topic of hemp and cannabis.
Can influencers promote cannabis?
There are tons of influencers on YouTube, Tik Tok, Instagram and other Social Networks that will gladly work with you to promote your cannabis products. 
There are even influencers who have email lists that will be happy to put together a campaign to send to their people about your products.
How can cannabis companies advertise?
There are many types of advertising that cannabis brands can do, both digital and print.
You can advertise on Podcasts, and on different ad networks that are hemp and cannabis friendly.